The kids are back in school, football season has begun, the leaves are beginning to change to gold, and the weather is finally cooling down. With the fall season soon upon us, it's time to prepare for the season, from garage maintenance to organization before you get too busy with all of life's activities. Keep reading for information and tips on how to make your garage fall ready and why it's important to do so.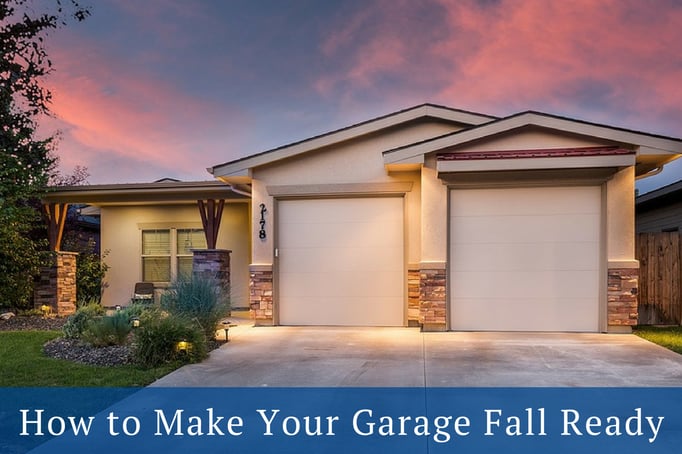 Fall Ready Garage Maintenance Tip #1: Give your garage a thorough maintenance check to prevent costly damage in the future!
Springs
Garage door springs are essential to the overall functionality of the garage. It is important to look for either sagging or signs of damage and to fix them immediately. Especially because they commonly snap during a season change due to the fluctuation in temperatures. Here's our guide on how to inspect springs and when to call a professional.
Seals
You should check the seals in your garage on all doors to verify that they are tight, trim, and not too weathered. Proper seals not only increase the insulation in your garage, but also help you save dollars on your heating bill. When seals are not installed correctly and are beginning to wear down, cold air will easily seep in and cool down your entire home.
Grease
To help the mechanical devices, you should periodically grease them to reduce friction. With a drop in temperatures, the cold can cause metal to contract and add an extra strain to the working parts. This can cause breakage or decrease the lifetime of the door and its parts. We recommend that you grease or lubricate the hinges, bushings, springs and roller.
Fall Ready Garage Maintenance Tip #2: Take a weekend to declutter the garage, donate unused items to make it easier on yourself to find something later on!
Declutter
Why declutter your garage now and not wait until spring cleaning time? Because you will want to park your car inside during the winter to keep it more comfortably warm. Most stuff in people's garages is unnecessary, not often used and takes up valuable space. You've probably even forgotten you've owned half that stuff too! Sell it, donate it or throw it away…You won't regret it! With the clutter long gone, you can now maximize the space you do have (how about a Halloween party or haunted house?)
Storage
Fall and winter weather calls for lots of accessories that take up a decent amount of garage space. If you live in a mountain climate you may have snow shovels and a snow blower, while others may have rakes and a leaf blower. To keep the garage organized, in hopes of plenty of room for those accessories and the car, remove all spring and summer items. You can store these seasonal items by utilizing overhead shelves, wall shelves, storage bins and even placing these items in the attic or basement if applicable. By storing away these seasonal items, you are freeing up important space and keeping what's needed for the season front and center.
Easy Lift Door Company will happily assist you with garage maintenance to help your home become fall ready, especially if you have broken parts or need a thorough check. We offer quality repair services for an affordable price!
Call us at (916) 922-7123. Our phone line is open from 7:00 AM to 3:30 PM every Monday through Friday, except for holidays. If it's after hours,
please click here to contact us
.