Happy New Year! With a new year comes new trends and the want for home improvements. No matter your budget, there is a way to update your home and increase it's curb appeal. A new, popular color paint can go a long way! Below, we have compiled a list of 10 exterior home trends for 2018 (including some of our garage favorites!)
Painted Front Door
Although the color of the year is Ultra Violet, according to Pantone Color Institute, paint manufacturers have been releasing their own selections for 2018's paint color of the year that are more decorating and user friendly. The colors (as seen below) are a beautiful mix of light, bright, dark and neutral. By painting your front door, you would make an inviting statement piece to your home and add a splash of color to a beige or white exterior.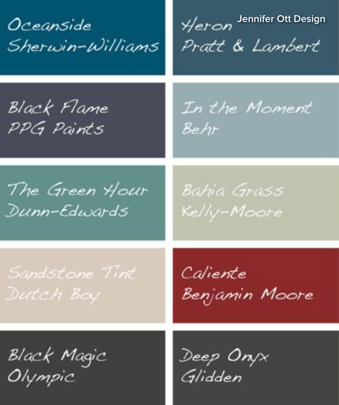 Farmhouse Architecture with Barn Door Style Garage Doors
The farmhouse architectural style is here to stay! Popular for a few years now, this trend of incorporating design elements like porches, gooseneck barn lights, metal roofs and of course barn door style garage doors showcases traditional American architecture that is comforting and elegantly old fashioned.
Exterior Texture
Using a mixture of brick and stone creates a dynamic, interesting exterior texture and adds that extra spark to homes. It can easily increase curb appeal if you're considering putting your home on the market in the near future.
Red Brick
Once a default choice for exteriors, this classic building material is on its way back this year to add warmth as a premium finish. It is being used to enhance a home's exterior in a very contemporary way paired with a beautiful light brown or cream exterior paint.
Natural Finishes
In the past, heavily stained wood was extremely popular for homes to incorporate. However, with the increased interest in Modernist houses there is a calling for more authentic, natural building materials. This includes natural or lightly stained finishes on garage doors and even front doors too.
Color Pop and Contrast
Make your home the most aesthetically pleasing one on the block! The idea is to create a color palette for your home's exterior that is bold and dynamic, utilizing light and dark shades of similar colors, combined with one very bold accent to make the entire design pop. This can still be done by utilizing color trends and simply choosing the main color from your home's architectural palette or surroundings, and find complementary shades at the other end of the light/dark spectrum to get the look. Take a look at the most popular colors of 2018 above for inspiration!
Wooden Garage Door
After losing popularity for the past few years due to fiberglass, wood garage doors are on the return! The best part about this style of garage doors is that it complements many architectural styles, from traditional to modern, and adds timeless elegance and dramatic curb appeal to any home.
Neutrals
For those not into the trend of color pop and contrast, neutrals are equally as popular for this upcoming year. The appeal of neutral colors (greys, beiges and off-whites) is becoming more sophisticated for homes of any price bracket. Neutrals are being subtly enhanced by using different materials and a specific color palette and building materials, linking back to the texture trend we discussed above.
Large Windows
Not only do large windows look beautiful from the outside and make a home appear larger from the street, but they allow plenty of natural light into the home. One of the biggest factors home buyers consider is how much natural light there is in living and dining areas.
Grand Entrance
Home exteriors are the first thing visitors, neighbors, prospective buyers and even yourself see! That being said, there is no better way to make an impression than having a grand entrance. There are many ways to do this, but what is most important is ensuring that it is both functional and aesthetically pleasing. Ideas for a grand entrance include: an exterior balcony on the second level, large windows, pillars, steps leading up to the front door as well as a custom made garage door with windows.
If you are interested in upgrading your garage door to increase your home's curb value after learning about the exterior home trends for 2018, Easy Lift Door Company can help you! We are proud to offer a wide variety of quality products from top garage door companies. Give us a call at (916) 922-7123! Our phone line is open from 7:00 AM to 3:30 PM every Monday – Friday (except for holidays). Or, fill out our contact form here.