Your kids have outgrown everything and the garage (AKA "the storage container") is filled to the brim. It's that time of the year again—garage sale season! And this year, you have Easy Lift Door Company, the garage door experts, to help you with a garage sale checklist! Think about all the things you could buy after a perfectly executed garage sale—including garage door customization!
Here are our must-have items for your next garage sale.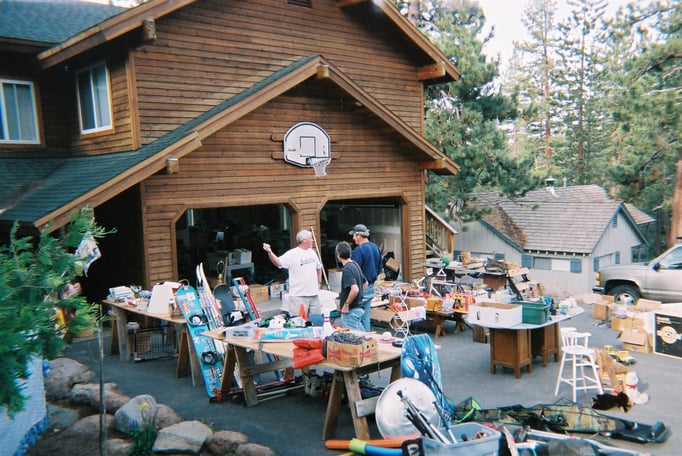 Common Household Items
Topping the charts on our garage sale checklist are common household items. This is a fantastic way to make space for the things you're looking to upgrade, or flat out get rid of your junk. These may be vacuums, irons, refrigerators, toasters, dishes, picture frames, etc. Whether people are looking for a cheap replacement or moving into a new house, people always need common household items.
Tools
The selling point here: Tools almost never go bad! Your customers will not be hesitant to buy tools because of this, so don't worry about "screwing" over your guests. This is your chance to get rid of old/unused tools!
Clothes
This is a must, must have for a garage sale—especially for kids! Young children and teenagers are constantly outgrowing everything they wear. Rather than donating all of your old or outgrown clothes, why not sell them? But remember, if you truly want to get rid of all the clothes, sell them for cheap. People are there to find cheap clothes, not mall shopping.
Antiques
Some people aren't browsing garage sales to get the common items most people seek. Some want to stop by to see if there's something they can't find anywhere else. An old model car, a 100 year old vase—you know what they say, "someone's junk is another person's treasure!"
Furniture
Someone's son or daughter may be going off to college, or a new piece of furniture is needed and someone's trying to save a few bucks. Whatever the case, a garage sale is the perfect event to sell old couches, chairs, tables, etc.
Sporting Equipment
Baseball mitts, basketballs, rollerblades, skateboards… you get the idea. Children and adults will always stop by if they can find something fun for the family at a low cost. Having these sorts of items will attract eyeballs if anything.
Bicycles
What's the perfect thing to buy at a garage sale for cheap? A bike! Clean off your old bike collecting dust on the side yard and score some bucks! Fun fact: Bikes are one of the most sought after garage sale item.
Gardening and Yard Work
After work or on the weekends, people are most likely spending time in their yard. Thankfully, your garden and yard is so perfect, you can get rid of unused tools and equipment. Spring and summer are the perfect time to sell these hot items.
Retro Items
Similar to the antique category, you really never know what you might find. Sports memorabilia, video games, toys or other collectables attract those looking frequently to find hidden treasures. Because these items are so rare, you can actually make a decent dime as well. Also, retro things just catch people's attention!
Bonus! Water and Soft Drinks
Lastly, a great draw is to offer a treat for your guests. This probably isn't the only garage sale they've stopped by, so offering a cold water or soda might help them stick around and be comfortable. Try charging your guests a $1 a pop.
For anything you're looking to sell in a garage sale, the better shape it's in, the better chance you have of selling it for the price you want, or selling it at all. We hope our garage sale checklist helped you plan your big day! We want you to get the bang for your buck so you may buy new furniture, upgrade your garage door, or purchase something else for the house. Summer is about making your house look better!
Need some help making your garage look and operate better before your big sale? We'd love to help!