It's the time of the year Americans and fans around the world have all been waiting for—football season! It means it's time to bring the jerseys out of the closet, clean off the BBQ and get the drinks cold. Are you ready for some football!?
When hosting a football party, the food, drinks, and people matter, but so does the space and setup you have. Watching football in your living room is fine, but doesn't a tricked out football-themed garage sound even better?
We think so too!
This season, it's time to ditch the distracting living room and turn your garage into the football-themed haven you've always dreamed of. Let's get started!
Before the tricking out begins: Start by cleaning
First things first, if you're going to trick out your garage before cleaning it up, that's a big false start. Kick off by disposing of any excess junk, organizing items into proper storage areas, sweeping and mopping down the floors, and doing whatever else it takes to make the place shine.
Now let's get to the real stuff.
1. Comfortable Seating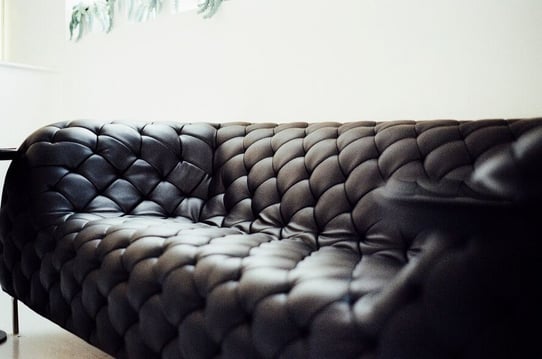 Watching football should involve many fun things – good food, drinks, people, etc. However, near the top of the list is a comfortable spot to post up on while watching the games.
For large garages, we recommend couches, such as a sectional with tough upholstery. Sectionals allow you to move the couch around as you see fit, creating the perfect seating arrangement. For smaller garages, we recommend loveseats and individual seats, e.g. recliners.

2. Entertainment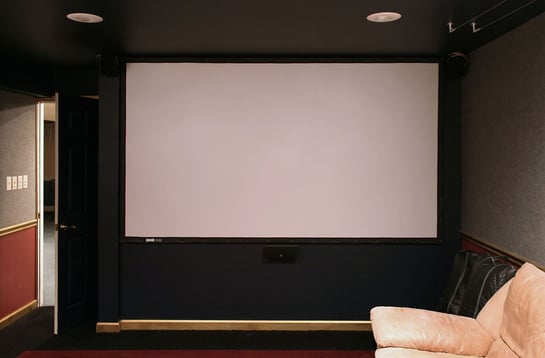 The scope of this section is how big or little you want to go. Are you content with a 50 inch flat screen and speakers? That sounds great to us. Or, are you more of a projector screen and surround sound person? Awesome! You'll be seeing every inch of the game that way!
The basics you need: A great quality TV, good sound, and cable (NFL Sunday Ticket if you're really serious about your sports).

3. Flooring

If there is a floor that's neglected in homes, it's the one in the garage. However, turning your garage into a football-watching haven gives you a fantastic reason to upgrade the garage floor.
There are a few ways you can go with new floors. If you're looking to really warm up the area, carpet is a great choice (try a darker carpet to reduce stains). For a great looking, tough floor, we recommend painting or laying an epoxy seal down. Hey, you can even pick colors of paint to match your favorite team's colors!

4. Appliances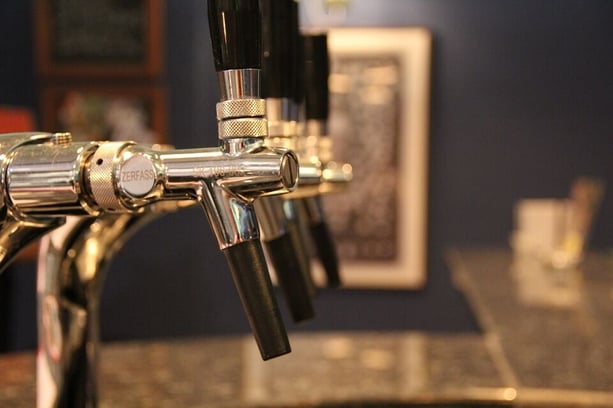 Kegerators, refrigerators, toaster ovens – the sky's the limit! You and your guests will love having easy access to food and drinks so you don't miss a moment of the big game.
Cold beer and good eats are like peanut butter and jelly when it comes to football. Check out these awesome recipes to feed your hunger!

5. Football Decor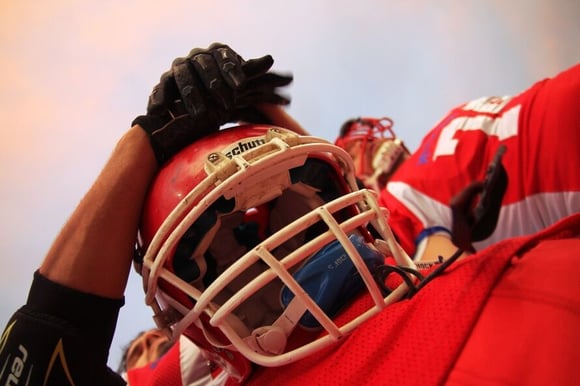 Last but certainly not least, the football paraphernalia! Cap off your incredible garage project with your favorite football gear. Decals, jerseys, helmets, autographs...you name it. The garage will look awesome with your favorite team's colors covering the walls.
Football season is about gathering with friends and family, eating and drinking to your heart's, and enjoying America's favorite sport. The garage is the perfect getaway for this.
As the garage experts we are, we'd love to see the space you've built for this season! Head over to Facebook to share your football man cave with us!
Need extra help getting the door, motor, spring or something else fixed before you create your man cave? Or are you looking for custom decals for the inside or outside of your garage? Contact us and we'll get your garage in top shape!