The garage door often goes unnoticed and gets neglected when it's time for home improvement. Now that it's spring, it's the perfect time to get things in order and maintain the home you love—including the garage!
So, take some time off from cleaning up the backyard to do these six steps to help your garage door live longer and function better!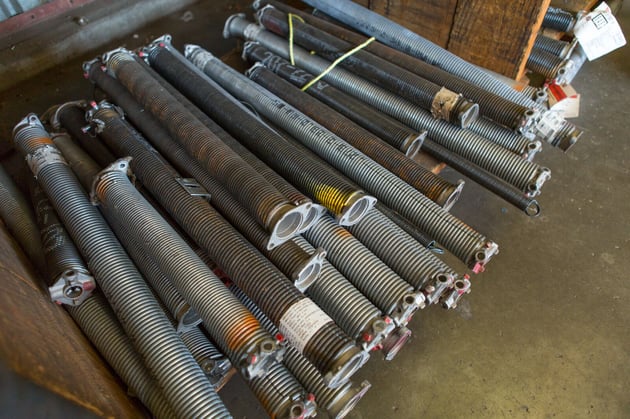 1. Lubricate all garage door parts
Similar to our Garage Door Fix, lubricating parts of your garage door can keep the noise to a minimum. We recommend using a lithium or silicone spray to lubricate the garage chain or screw and the springs. Pro tip: don't use WD-40 for this!
2. Properly clean the garage door tracks
While you may think the garage door track needs lubrication like the tip above, you want to avoid it! Lubrication on the tracks can cause debris and matter to build up and cause later problems.
Instead, focus on clearing out all debris or other matter in the tracks. Use a wet cloth first to wipe out the inside of the track, and then use a dry cloth for the finishing touch.
3. Check garage door sensors
Because garage door sensors are near the ground, they can be nudged or moved out of place resulting in the sensors not reading properly. Try properly alinging them back to position. We can help align your garage door sensors for you!
4.
Replace weatherstripping
Due to sun, time, or other various reasons, the weatherstripping on your garage can brittle or deteriorate. If this is the case, the elements from outside can more easily get in your garage or house.
To fix, first measure the length of your garage where the weatherstripping needs to go. Then, visit your local home improvement store where you can purchase weatherstripping by the foot. Simply remove the old weatherstripping and attach the new one where it was.
5. Test garage door balance
Tired of replacing your garage door opener? This tip is to help your garage door last longer!
Here's how to test the balance. First, disconnect the opener by pulling the red cord or other color cord, and then move the garage door to halfway up. If the garage door doesn't stay completely still, the garage door springs are off balance. Because springs are dangerous and complicated, please call us to properly balance the springs.
6. Clean out the garage!
This isn't as much a maintenance tip as it is a simple spring cleaning job. Have you been dreaming of putting a home gym in your garage? How about setting up your own salon? Cleaning up excess junk and other stuff is your first step to getting there!
It's spring, and it's the best time for maintenance around the house. Here at Easy Lift Door Company, we highly advise you take care of all these tips this spring.
Need a hand with any of the maintenance tips? Give us a call and we'll walk you through details on the phone or send out a technician or more technical fixes.