Looking for little ways to increase the value of your home? But you know, easy to accomplish, not crazy expensive, and can make daily life a little nicer?!
Why not upgrade your garage floor? It can be a great way to protect flooring, add interest, and even add to the durability! There are a variety of options on the market today than can help increase the overall value of your home. There is lots to choose from, and whether it is paint coatings or floor coverings, each one has its own features and benefits! Learn about several affordable garage flooring options below.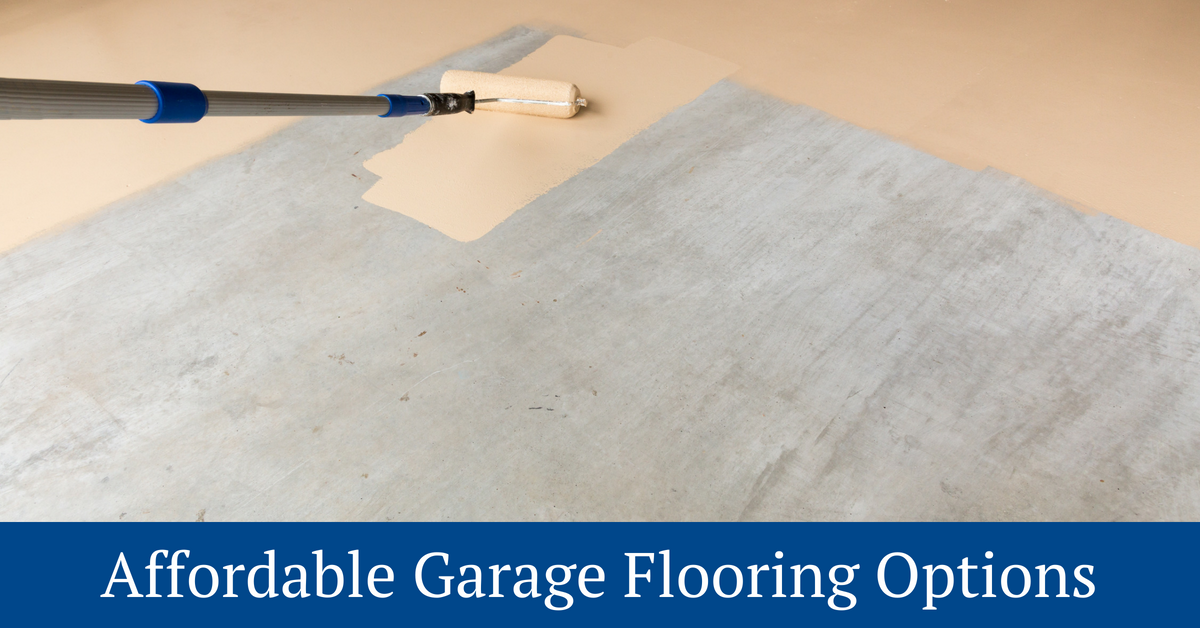 ---
Garage Floor Paint Options:
Concrete Floor Paint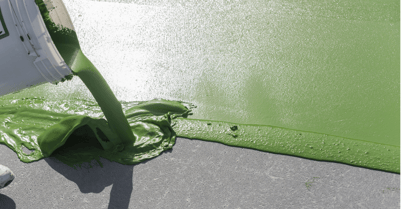 This material is one-part coating with a satin finish that protects against stains, discolorations as well as damage from tires and chemicals. It also is available in a variety of colors, so you are able to choose one that best compliments your home.
Epoxy Paint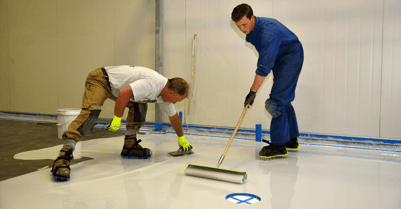 If you decide to go with epoxy paint, you must note that this is more of a gloss-like finish; however, it does protect against chemicals, stains and wear & tear. To go one step further, you can add a protective clear coat on top too for a showroom-quality finish that is perfect for your vehicles to park on. Buy epoxy paint here!
Concrete Stain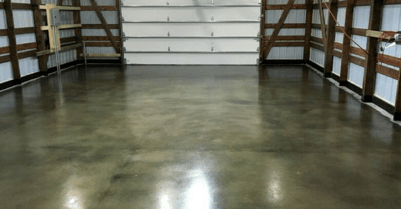 Do you want your garage floors to appear as stone or marble? If so, concrete stain is the way to go! These are available in a variety of finishishes and it is possible to even do a combination to create a unique, desired look. Concrete stain finishes are durable, cost effective, attractive and low maintenance.
Concrete Sealers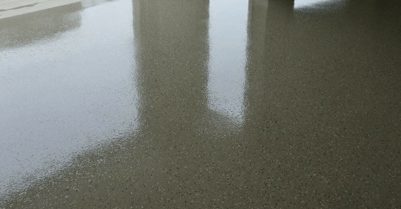 Sealers are a tough version of floor paint, so they are extremely durable for the years to come. Better yet, it is quite inexpensive to do this type of garage flooring and they are available in a variety of finishes depending on the exact one you choose.
Garage Floor Coverings:
Snap Together Tiles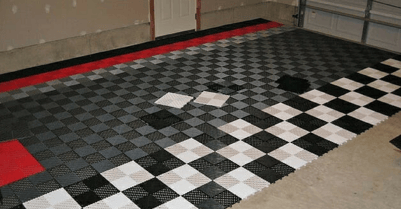 These are made of rubber and can be ordered in many different colors. The best part about them is that they are easy to clean, so messes made out in the garage can be cleaned up in no time.
Rollout Mats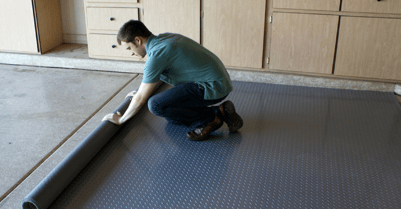 Rollout mats are available for homeowners to purchase in a variety of colors, patterns, lengths and widths. You have the option of covering the entire garage floor or just putting them in areas where the cars park, it's up to you! Mats can easily be cleaned and moved, as they can be temporary in case you want to do a different type of flooring in the future. Purchase rollout mats today, by clicking here.
Interlocking Flexible Tiles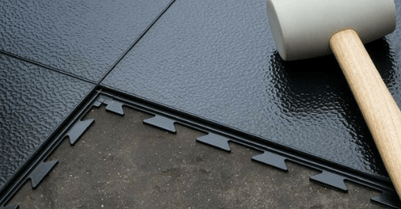 These tiles are sold in 12x12 or 18x18 in fun patterns and colors than allow you to completely personalize and design your garage to your liking. You can lay these yourself as they are easy to install and do not require a professional. These tiles are protective against liquids seeping through seams and are slip resistant. When tiles wear, they can be quickly replaced too!
Ordinary Kitchen Vinyl Tiles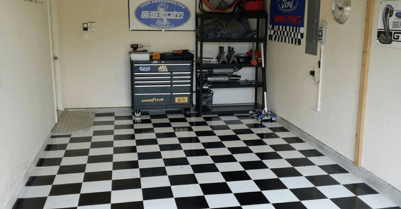 You may find these in kitchens most frequently, however under the right circumstances they are a great, inexpensive option for garage flooring. The patterns allow you to once again get creative and make your garage your own. Click here to purchase!
Now that you have given your garage floor some major TLC, don't forget about your garage door too! Complete your makeover project by having any repairs fixed or even upgrading the entire door to increase the home's value.
Contact Easy Lift Door Company for your home garage repairs, customizations and installations today!