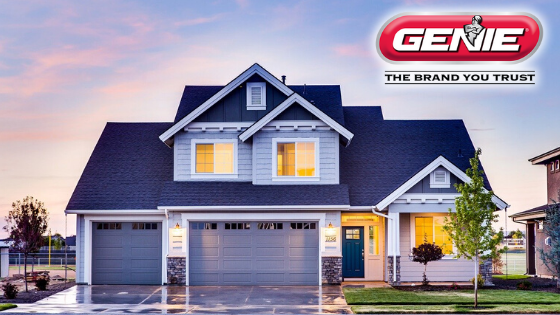 Welcome to our first entry in the What Brand Should I Pick for My Garage Door? series on our website! Over the next few months, our team will be creating an easy-to-follow guide on garage door openers and accessories. We want our customers to quickly and easily find the best products for their needs. After all, your garage door opener is an important home appliance that will get plenty of daily use for years to come. That being said, there are countless options available in terms of garage door openers, and we realize this can be a hard choice to make for those who don't live and breath all things garage-- like our dedicated team does every day! That's why we're taking you through Genie Garage Door Openers and product overview and highlights to see if Genie is the right brand for your home!
Safety
We get it. Having a home and a family to protect means that safety is a huge priority. That is why Genie's top safety features will keep everyone safe and sound! The Genie Safe-T-Beam system uses a continual infrared beam that projects across the interior of the garage door's opening to a receiver at all times. What does it do exactly? When the garage door is closing, if the beam happens to be interrupted by a person, animal or other objects, the Safe-T-Beam will automatically raise the door back up to protect whatever is in its path.
Power & Speed
Genie garage door openers operate at a variety of opening speeds ranging from 6-12" per second. The soft start and stop reduce wear and tear and increase the lifespan of your garage door! A selection of Genie products are available with DC motors, which are a newer technology and offer benefits like a quiet, smooth operation as well as soft starting and stopping. Your house will never shake again from those noisy motors!
Smart Technologies
There are a variety of smart technologies that are incorporated into Genie garage door openers that provide customers with value, security, and convenience.
Aladdin Connect Integrated WiFi connectivity allows customers to monitor and operate their garage doors from anywhere, all with their smartphones. You will know exactly who is coming and leaving your home. Plus maybe you forgot to close your garage door scurrying off to work in the early morning? No worries, you can control the door all from your work desk using your smartphone.
HomeLink and Car2U are exclusive with Genie products, as no additional hardware is required.
Intellicode security technology changes the access code on each door activation to help prevent unauthorized access for extra safety at your home. As a homeowner, this extra safety precaution will keep uninvited guests or intruders from coming in as garage break-ins are common.
Control and monitor your garage door from your smartphone, just by adding the Aladdin Connect (included with some models or sold separately). Aladdin Connect is a smartphone-enabled garage door controller activated from anywhere via the home's Wi-Fi connection.
Battery Backup
Today, battery backup is a critical deciding factor for consumers when choosing a brand of garage door openers due to power shut offs from local electric companies or power outages due to poor weather conditions. Once you have it, you won't be able to imagine living without it! You want a reliable battery backup, as even without power, you will still be able to open and close your garage door. With Genie, you do not have to worry about the battery failing and not being able to open or close your door in the event of a power outage or other emergency, thanks to their products' strong and reliable battery backup. With Genie's manufacture recommendation of testing the battery operation being only once a month, you can ensure a battery life of up to 3 years. This means once the backup system is installed and tested monthly, there are no other parts to maintain or replace, leaving you worry-free. All you have to do is push the button and go… seriously, it's that easy. On the same note, the battery backup will power up to 50 door openings and closings within 24 hours of the power outage, as it works to conserve and manage the overall battery life until the main power is restored.
Multiple Models To Select From
Easy Lift Door Company offers three different Genie brand models, all with varying features, in order to meet different homeowners' product expectations.
Genie Model 3120: This model has smart garage capabilities, and the integrated WiFi offers benefits like security, convenience, and tracking. Plus, it has an opening speed of 7.0" per second. The model 3120 comes with lighting on each side of the powerhead to help spread light around the entire garage, which customers will love when arriving home at night. Furthermore, the quality built into this model is backed by a 15-year Limited Warranty for the motor.
Genie Model 1128b: This model stands out with the Integrated Aladdin Connect technology that Genie offers. Thanks to the WiFi smart home integration, you can control and monitor the Model 1128B at your home from nearly anywhere, all with a smart device.
Genie Model 2128b: This model not only comes with the Integrated Aladdin Connect technology but also has a fast opening speed of 7.0" per second. The DC technology allows your garage door to begin and end its movement smoothly instead of abruptly whenever operated, which is quieter and creates less overall wear.
Are you ready to have Genie Garage Door Openers installed at your home? Our team of experts will answer any further questions you may have and help you choose the best system for your household. Contact us today to get started!