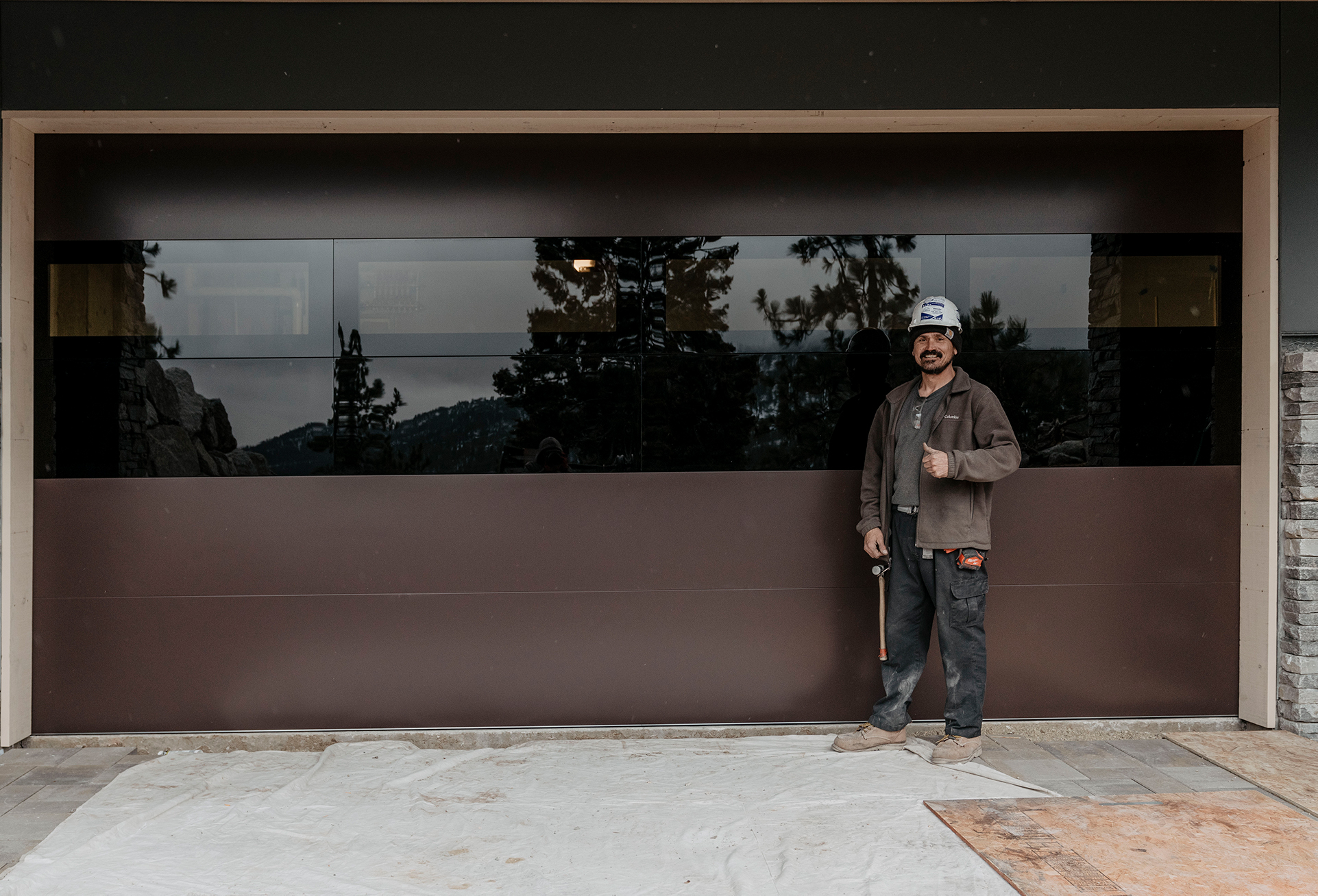 Trends and new stylish home improvements are not commonly associated with garage doors, but we are here to change your mind!
Easy Lift Door Company has been in that industry since 1984. That's 36 years, more than half of the industry's history. With that in mind, we have seen our fair share of door styles and looks that suit homes and some that unfortunately don't.
We hope this information helps you to confidently choose the right garage door style for your home. We will break down a few industry terms before we start that aren't commonly known.
Primarily, R-Value measures the thermal efficiency of a garage door, which helps to determine which door is best for a certain climate. Please review our helpful graphic below.

Let's dive into Easy Lift's top picks for trending looks.
The CHI Sterling 2717, as featured above with one of our technicians, is an awe-inspiring door. Available in 36 colors and holding an r-value of 15.07 with polyurethane insulation. This heavy-duty door effortlessly combines steel and glass achieving an ultra-sleek design. Solid sections and windowed sections can vary depending on your desire, even so far as having the windows cut out or left with solid backing to show off the infinity glass.
The little brother of this door is the Skyline Flush 2147, which still holds an impressive appearance and many more customizations. Powder coatings coming in 188 variants and choices of five different stamped wood looks. Holding an r-value of 10.29 with polystyrene insulation mounted in this 2" thick, two-sided steel door.
A door with practically an all-glass design is the Wayne Dalton Aluminum Glass Door model 8850. With 7 standard colors and about 200 powder coat options, this door will match any modern home that is looking for that metal and glass look. On a 9'x7' door the r-value can range from 3.42-4.36 depending on the glass insulation. The glass also has customizations for clear, tinted, frosted, and more to help filter the light that comes into your garage.
These three doors are definitely trending, and as such hard to get your hands on. If you want a shorter wait time consider a door with a polystyrene insulation rather than polyurethane. The trade off for a shorter wait time is the less efficient r-value of polystyrene.
Some great options that have the same look include the CHI Skyline Flush 2151 and 4151 constructed of 1 sided steel and vinyl backing. These sleek flush doors come in 188 powder coating options and hold an r-value of 7.94.
Here is a quick recap of the doors we mentioned.
CHI Sterling 2717
R-value 15.07
35 color Options
2" Thick 2 sided 24 Gauge Steel
CHI Skyline Flush
R-value 10.29
188 Powder Coatings
2" Thick 2 sided - 27 Gauge Steel
Wayne Dalton 8850
R-value 3.42 - 4.36 depending on glass on a 9'x7' door
200 Powder coating options
CHI Skyline Flush 2151 and 4151
R-value 7.94
188 Color options
2" Thick 1 sided 25 Gauge steel and vinyl back
Our company has built excellent relationships with the manufacturers of these doors, allowing our customers to attain unbeatable pricing. Upgrading your home to complete its look is now easier and cheaper than before. You are a quick call away from a free quote on the door of your choice, but remember to have your garage dimensions handy. Check out our blog on how to customize a garage door to find a diagram of how to measure your garage's height and width.