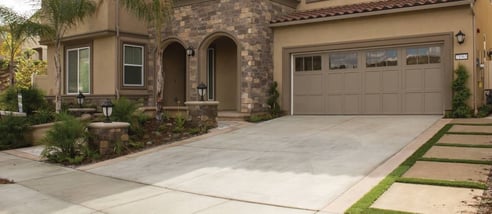 With the new garage door law taking effect this year, now would be a great time to enhance your home's curb appeal by giving your garage door a new, updated look. We're excited to share a few of our favorite 2019 garage door trends with you to help inspire your home's new appearance. No matter what look you choose, we can't wait to help you install your new garage door!
Garage Door Trends to Enhance Curb Appeal
Modern Materials, Classic Look
Materials like vinyl and fiberglass are becoming more and more popular due to the fact that they're lightweight, affordable and easy to maintain. These synthetic materials come in a wide range of styles and finishes as well, giving your home an immediately chic and modern look. If you're considering this look, we recommend the Wayne Dalton. Fiberglass garage door because they're the most respected name in fiberglass doors. Their design boasts an artfully molded wood-grain fiberglass surface with durable steel construction that means it will provide years of beauty and performance.
Natural Light, Sleek Look
If modern and sleek is the look you're going for, then you might want to consider going with the unique look of a glass garage door. C.H.I Sterling is the embodiment of minimalist design, with their glass garage doors. This new look enhance your home's profile and will provide a modern look you'll love. Glass garage doors will both brighten your garage's interior, while adding flair to your home's exterior. Plus, you can add different varieties of tinting for added privacy.
Custom-made, Unique Look
There is no "one size fits all" saying when it comes to garage doors, so why not take the liberty of designing your own unique look?! Our team will work with you every step of the way, from the design to choosing the materials to selecting the finishing touches. Are you going for a more nostalgic, carriage house look? Or perhaps a bold new look and color? The process of customizing your garage door will ensure your garage door will fit your own unique tastes and personality while simultaneously enhancing your home's facade!
No matter what look you're going for, our team will help ensure you find the right fit! The right garage door will not only enhance your home's curb appeal, it will also increase your enjoyment of your garage. Contact us today to schedule your free diagnostic!